Investor Information
The Insurance Advisor (TIA) , operating within the $930 billion US Insurance Industry, has created the first independent online insurance planning resource to serve the 1) estate/wealth transfer planning and financing needs, 2) business succession planning and financing needs, 3) benefit planning and funding needs, and 4) general life and health insurance needs of high net worth individuals, the future affluent, Corporate America, and growth companies. To serve this market, TIA delivers its tailored solutions via an application service provider (ASP) that offers:
A patented system that, for the first time, enables independent, direct evaluation, selection, and fulfillment of optimal insurance solutions, including variable universal life, universal life, and term, from the complete universe of insurance products and carriers using TIA's "Morningstar-like" Confidential Policy Evaluator (CPE).
An innovative, patented "consultive sales technology" that leads Advisors and self-reliant, financially astute consumers through insurance-related questions to deliver high quality solutions.
The only insurance application specifically designed for financial Advisors, who typically serve as "gate keepers" to the high net worth market.
Online and off-line full-range-of-service capabilities supported by a network of Insurance Banking

®

Specialists with market intelligence and market access to insurance and wealth planning products designed for the high net worth market.
In essence, TIA's online application "wires the network" serving the high net worth and affluent market, which constitutes approximately 24 percent of the nation's households but accounts for 90 percent of all profits in the financial services industry, to provide a level of service and online capabilities never before available. Through this unique enabling technology platform, TIA 1) offers Advisors and consumers an unequaled level of service, 2) creates multiple revenue sources for TIA, and 3) significantly expands the market share of participant member firms.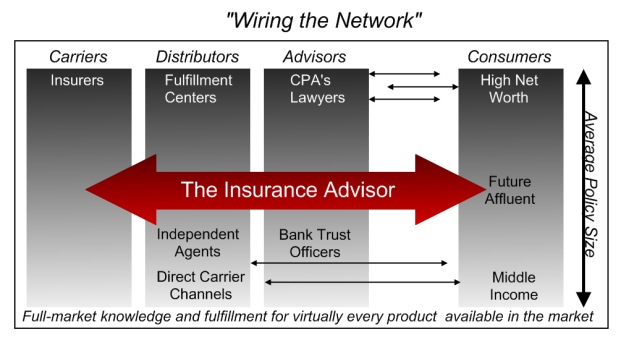 TIA's First-to-Market Online Life Insurance Policy Evaluation Tool
TIA offers the first available independent online resource that enables Advisors to directly evaluate, select, and fulfill optimal insurance solutions, including variable universal life, universal life, and term, from the the complete universe of insurance products and carriers using TIA's Confidential Policy Evaluation (CPE) Reports in much the same way financial advisors use investment information services like Morningstar®, Lipper®, and Value Line® to help clients manage their investment portfolios.
Unlike existing insurance sites that offer only price quotes for term insurance, TIA delivers sophisticated, interactive Insurance Banking® tools. These tools currently include the CPE; the Pricing Calculator, a program designed to evaluate the adequacy of coverage and quality of policies and carriers; the Premium Search Engine; as well as a glossary of insurance terms and relevant case studies.
TIA's Innovative, "Consultive Sales Technology" Delivers High Quality Solutions
TIA' s innovative, patent-pending "consultive sales technology" incorporates the experience of one of the industry's most successful producers. this "sales technology", which adapts highly successful and replicable sales practices to a technology platform, leads Advisors through an educational presentation that presents the economic rationale for selecting certain insurance products or solutions for their most discriminating clients.
TIA Offers the Only Insurance Application Designed for Financial Advisors
TIA's market specific content and its unique "consultive sales technology" have been developed for the Advisor community, the Certified Public Accountants, attorneys, Certified Financial Planners, brokers, and other professionals who typically serve as "gatekeepers" to the high net worth market. Results of a recent TIA survey indicate that financial Advisors are asked insurance related questions, on average, about once a week. However, Advisors are often reluctant to seek answers from insurance professional (because some Advisors may be reticent to lose control of their client(s) or to undertake extensive research (because they lack sources for reliable, independent data and may not recover costs for their work). TIA's Insurance Banking™ resources enable Advisors to research carriers, products, and planning strategies; generate reports of their research for their clients; and help their clients purchase products specifically designed for their needs. Thus, TIA represent the first-to-markets they serve.
TIA's Online & Off-Line Service Capabilities Supported by the Industry's Leading Fulfillment Firms
TIA deepens market penetration, expands market reach, and improves distribution efficiency by delivering 1) the first independent online application for evaluating insurance pricing and value; 2) a proven successful and replicable "consultive sales technology"; 3) the only insurance application designed for the Advisor community, and 4) online capabilities combined with bricks-and-mortar support from leading fulfillment networks in the high-end market. To fund development of innovative technologies, expansion efforts, and working capital needs, TIA will consider capital contributions from an appropriate strategic source. In addition, TIA management will consider a variety of capital structures that would be beneficial to TIA and its lenders and investors. Proceeds will be used to support TIA's product development projects, marketing initiatives, and expansion requirements. Capital infusions, combined with the reinvestment of operating income, will allow TIA to achieve the projected perfomance levels presented in TIA's business plan, which is available on request.

Contact Us to request more information about investment opportunities with TIA.